UPDATE: Video for the June 23 meeting is now available.
Confronting Capitalism's Economic Crisis
-Meeting & 4-part Seminar-
all events at TRS, 44 East 32nd St., 11th floor,
New York, NY, from 7 pm to 9 pm
Sponsored by Marxist-Humanist Initiative.
======
TUESDAY, JUNE 23: PUBLIC MEETING
"The economic crisis and left responses," a talk by Andrew Kliman, author of Reclaiming Marx'sCapital: A refutation of the myth of inconsistency
"A new organization for a time of crisis," a talk by Anne Jaclard, National Secretary, Marxist-Humanist Initiative
Talks followed by open discussion. Donation requested.
======
SEMINAR SERIES
Tues., June 30
Introduction: purpose of seminar series; overview of crisis theories; definition of "crisis"; history of capitalist crises; why crisis theory?
Led by Josh Skolnik
Tues., July 14
Underconsumptionism: does paying workers more boost profit?
Led by Seth Weiss
Tues., July 21
Marx's law of the tendential fall in the rate of profit.
Led by Andrew Kliman
Tues, July 28
The crisis of the free market and the turn to state-capitalist ideology.
Led by Anne Jaclard
As the worst economic slump since the Great Depression calls into question the viability of the capitalist system, and as people increasingly doubt whether capitalism is desirable or even necessary, we need to unite theory with practice and an understanding of the current crisis in order to respond effectively. We invite everyone seriously interested in this task to join us in the seminar series. Participants will be expected to have done the readings prior to each session.
Donations are requested, but no one will be turned away because of inability to pay.
Please call us at (888) 579-2245 or write to us at mhi@marxisthumanistinitiative.org in order to register for the seminar series and obtain the syllabus.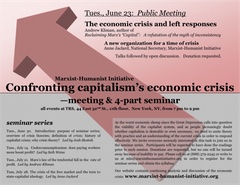 ---
3 Comments on "Confronting Capitalism's Economic Crisis, Meeting & 4-part Seminar"
1chris said at 7:19 pm on July 1st, 2009:any audio/video recordings?
2A said at 7:22 pm on July 1st, 2009:Chris,We should have a video up for the June 23 meeting up very soon.- A
3G said at 10:47 am on August 10th, 2009:Greetings,Will you be posting videos from the rest of the meetings?Thanks!G